Are you expecting to receive a payment from an international account and wondering which banks are linked to PayPal in Kenya? Learn the only two options you have for PayPal withdrawals as well as what could be a better alternative to PayPal.
If you regularly receive payments from foreign clients, it's likely that you do so through PayPal. You may also know that it is one thing to receive those payments in your PayPal account and another matter altogether to access those payments in Kenya.
Despite being available in Kenya, there aren't enough options to make PayPal withdrawals in the country. It would be most convenient for users if they could withdraw from their PayPal accounts straight into their bank accounts, but that's not a privilege accessible to every bank account holder.
So which banks are linked to PayPal in Kenya?
Read on for the answer. In this article, you will also learn:
How PayPal works in Kenya,
how to withdraw money from PayPal to M-Pesa,
how to withdraw money from PayPal to Equity Bank,
Let's dive right in.
How Does PayPal Work in Kenya?
Pay-to-peer payment platform that facilitates payments between individuals and businesses without revealing your full financial information. It is reputed as one of the safest ways to send money and make payments online.
Although PayPal offers a range of other services, including a debit card for payments and credit lines, it limits its services in many of its markets in the developing world. The ability to make payments online is the only feature of the platform open to users in these countries.
Kenya is one of only a handful of countries in Africa where PayPal allows users to receive payments. Besides using the balances in their accounts to pay for goods and services online, PayPal users in Kenya can make direct withdrawals to their local bank accounts and mobile wallets.
PayPal users can link their M-Pesa mobile wallets. This allows them to withdraw from their PayPal accounts to their mobile wallets in Kenyan shillings. It also allows them to top up their PayPal accounts directly from their M-Pesa mobile money wallets.
Which Banks Are Linked to PayPal in Kenya?
Equity Bank is the only bank in Kenya that allows direct withdrawals from PayPal. The only other way PayPal users can make PayPal withdrawals is via their M-Pesa mobile money wallets.
So if you are looking to make a PayPal withdrawal to a local bank in Kenya, you will need to have an account with Equity Bank. Let's discuss how you can withdraw from PayPal to Equity Banks:
How to Withdraw Money From PayPal to Equity Bank
The Equity Bank PayPal withdrawal service is exclusive to Equity Bank customers that are also PayPal account holders. This means as well as having an active PayPal Kenya account in your name, you must also have an account with Equity Bank in Kenya.
Despite offering its services in Kenya, PayPal does not have the Kenyan Shilling in the basket of currencies it supports. So you have to specify the USD amount you want to withdraw, which will then be converted to KES. The withdrawal amount that will reflect in your Equity Bank account will be in Kenyan shillings.
If the amount in your PayPal account is a different currency, PayPal will convert it to USD during the withdrawal process.
How to link PayPal with Equity Bank
The PayPal withdrawal service with Equity Bank is now offered through the Equity mobile app and Equity Online. But before you withdraw from PayPal to Equity Bank, you have to link the two accounts. Here is how:
Use your username and password to log in.
2. Verify your login
You will receive an OTP (one-time password) on your mobile. Enter it as shown below:
You should be able to log in without issues.
3. Link your PayPal Kenya account
You will then be asked to enter your PayPal account details.
4. Log in to your PayPal account
A pop-up of the PayPal login page will appear on the screen. Use your regular PayPal login credentials.
If you don't already have a PayPal account, you have the chance to sign up for one. Follow the prompts to complete the registration process.
5. Link your preferred Equity account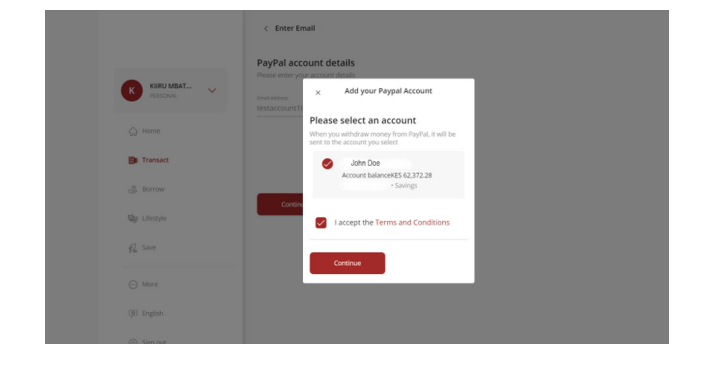 Upon login, you will be asked to link your preferred Equity Bank account to your PayPal. This is the bank account your PayPal withdrawals will be deposited into.
You will receive an OTP on your mobile to complete verification. Enter the OTP and click verify:
Your PayPal and Equity Bank accounts are linked. The system will tell you that you are good to go.
What is the PayPal withdrawal process like?
To complete the PayPal withdrawal, stay on the Equity Online dashboard but navigate to the web app's home page by selecting home on the left panel. Now follow these steps:
1. Locate the PayPal icon
You will find the Paypal icon in the center of the screen:
Click the 3 dots in the upper right corner of the PayPal card icon. There should be a 'withdraw from PayPal' icon overlaying the icon. Click on the 3 dots and enter the withdrawal amount.
2. Confirm the transaction
A payment confirmation screen will pop up.
Click confirm. You will receive email confirmation of the withdrawal, which will be processed to your Equity Bank account within 1 business day.
What is the PayPal to Equity Bank withdrawal limit?
Equity Bank allows unlimited PayPal withdrawals of up to USD 10,000 per transaction. The withdrawals will be processed within 1 business day.
PayPal to M-Pesa Withdrawal
You can also withdraw your PayPal funds to your M-Pesa account, thanks to the M-Pesa PayPal Service. This service allows users of PayPal who have M-Pesa mobile wallets to transfer funds between the accounts.
This means you can use your PayPal funds in the local M-Pesa ecosystem and use funds in your M-Pesa account to fund your PayPal account. This is ideal for those who prefer to keep their PayPal funds in the secure confines of their USD-denominated PayPal accounts.
With the PayPal M-Pesa withdrawal service, your money is instantly transferred to your M-Pesa mobile money wallet. The withdrawal is KES, which means you can easily transfer it to friends and family or use it to pay for goods and services.
We have covered the PayPal M-Pesa withdrawal service here.
What Are The Challenges African PayPal Users Face
While PayPal is a worldwide brand that has benefited many people around the globe, there are still some challenges that African PayPal users face when it comes to withdrawing their funds into their local bank accounts.
PayPal users in Africa face many withdrawal issues, including:
account limits,
Unsuccessful withdrawals
High transaction fees
Inadequate support users
Unrealistic KYC requirements.
This has led people to look for alternatives that are specifically built for African users and businesses.
IntaSend - Best Alternative To PayPal for African Users and Businesses
IntaSend is a fast and secure payment platform that allows customers to receive money from anywhere in the world. The online payments platform supports multiple payment options, has 24/7 local customer support, offers business API integration, and real-time notifications.
IntaSend uses the most advanced encryption available on the Kenyan market, which protects both users' funds and personal information. This allows you to send payments and transact with absolute confidence that your funds are safe.
With thousands of users across Kenya and a 99.99% transaction completion rate for account holders, IntaSend is a proven alternative for people who have grown tired of PayPal's high fears and limited services for its African users.
Some of the benefits you'll enjoy with IntaSend include;
Easy API integration into websites and mobile applications
Multiple payment options include ACH, card payments, mobile money, and Bitcoin.
Faster payouts,
Feasible KYC requirements,
Bank-level security,
Transparent service charges.
Sign up with IntaSend and enjoy fast and secure money transfers and payments, low fees, advanced invoicing, and other tools for growing businesses, and withdraw your funds in multiple ways including ACH to any local bank and M-Pesa.