Ever heard of affiliate marketing and wondered if it is a viable way to make money online? Well, it is and if you want to learn how to become an affiliate marketer in Kenya, this guide is for you.
Ever heard of passive income?
If you have been searching for ways to make money online in Kenya, you should have seen it mentioned somewhere. Although I hate to be the one to tell you there's nothing called passive income, affiliate marketing is what many consider it to be.
With passive income, you really can make money while you sleep. Maybe that's what they mean by passive income. But before you sleep, you have to work for that money. Perhaps it is 'work now and get paid later, many times over'.
If you are prepared to work and want to give affiliate marketing a try, this is the article to read.
In this article, you will learn how to become an affiliate marketer in Kenya.
I will answer the top questions you have about getting started and making money with affiliate marketing.
There's a lot to get through, so let's get cracking.
What Exactly Does an Affiliate Marketer Do?
An affiliate marketer is a person who earns money by promoting other people's products. They get paid a share of every sale they make for the merchant.
Unlike in a traditional wholesale or retail business, an affiliate marketer does not hold or pay for any stock. They don't handle the product. All they do is recommend the product to their audience, readers, or followers.
If someone buys off your recommendation, you as the affiliate marketer gets paid a commission or a fixed amount. This low barrier to entry and the unlimited income potential is what makes affiliate marketing such an attractive online business opportunity.
Let's talk about how affiliate marketing works in practice:
How Does Affiliate Marketing Work?
A typical affiliate marketing arrangement has the merchant or the person who owns the product or offers the actual service being sold, the customer, and you the affiliate marketer.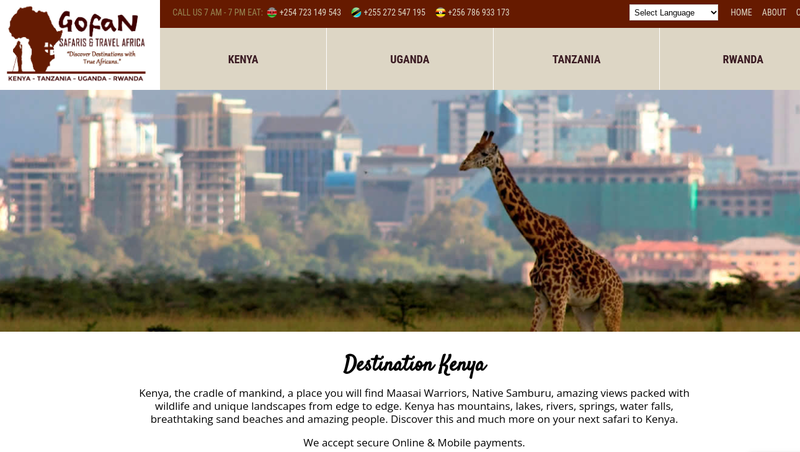 Let's suppose the merchant is Kenyan safari operator, Gofan Safaris & Travel Africa, one of our customers at IntaSend. Gofan Safaris & Travel sells safari packages to a worldwide clientele through its website, among other channels.
Then there is you, a wildlife tourism blogger. Thanks to your great content, you have amassed an audience of loyal readers within and outside Kenya.
Among these readers are people who could genuinely be interested in sampling Kenya's excellent wildlife conservation and tourism product. These readers are, in effect, potential customers for Gofan Safaris & Travel.
Now if the smart people running Gofan Safaris & Travel ever decided to launch an affiliate program to boost their sales, your blog would be a great fit as an affiliate. You can in fact approach Gofan Safaris & Travel with the offer to promote their safari packages through your blog.
To activate this affiliate marketing arrangement, Gofan Safaris & Travel would give you a special code or unique link. This is the tracking ID that you add to links that you place in your content or ads when you recommend the safari operator's packages.
If a prospective safari package buyer clicks on your link, a cookie gets planted on their device. The cookie usually has an expiry, or period within which the buyer has to make the purchase.
If they make the purchase before the cookie expires, you get a commission. Outside that expiry, the sale will not be credited to you.
What Makes Affiliate Marketing Such an Attractive Online Business in Kenya?
A couple of things make affiliate marketing in Kenya (and anywhere else for that matter) quite appealing as an online business idea.
1. Low set-up costs
Affiliate marketing businesses have extremely low costs for starting up. Other than the cost to set up a website or social media page and creating content, you will be spending nothing other than your time.
You don't even need to hire any staff. Unless, of course, you get so successful at it. But since we assume you are a beginner, you won't be hiring employees for a while.
2. Low operating costs
Since this is a business where you don't have to maintain an inventory or buy the goods you will be promoting, you don't need much capital to start and operate an affiliate marketing business.
Using the example of a website as your source of leads, the only costs you should budget for are:
Web hosting,
SEO software,
Internet data.
All these costs do not amount to much.
We are going to assume also that you will be producing the content yourself, whether they are blog posts, videos, or photos. So this cost will be manageable and well within your control, too.
3. Low risk
With affiliate marketing, since the start-up and operating costs are so low, you won't be risking anything. If people don't buy from your recommendations, you don't lose anything. You can either persist with it or simply try the next online business idea.
4. Flexibility
Affiliate marketing gives you more control of your time than most online businesses. You can pace yourself and choose when to write or however way you create content or promote your products.
It is one of those side hustles that you can do while working a full-time job. This is what I personally advise for beginners. It allows you to gauge if this type of business is for you before you quit your job and go to it full-time.
How to Get Started in Affiliate Marketing
It's not hard to see why affiliate marketing is one of the more popular ways to make money online in Kenya:
The digital economy is growing,
There are more people on social media than ever before,
More merchants and retailers are selling their merchandise online,
More people are turning to Google for information and product recommendations.
All this means there is a real opportunity for savvy marketers who can pick the right niche and produce good quality content.
Speaking of that, let's discuss exactly what steps you need to take to start a career in affiliate marketing in Kenya:
1. Pick a niche
A niche is a specialized segment of a market. For example, CRM is a smaller segment of a larger software niche. Using our example, wildlife safaris are a smaller segment of the larger Kenyan tourism market.
There are several reasons why you must 'niche down':
It is easier to master the product or service and present yourself as an expert. People need a reason to trust your recommendations,
You don't spread yourself thin. By niching down you can cover every knowledge gap people have about the product or service you are promoting,
Reduces the size of your competition, especially on search engines. Even though it may mean a smaller pie, you have fewer people to compete with,
It is easier to build a brand since you have less competition.
A good affiliate niche is one that is under-served, which means there is low competition. It means there are few people promoting the products you want to promote.
It is also one that has many products to promote or high demand for the product or service you are targeting. Ultimately, you are going to make money by making as many sales as possible. There is no use promoting products that very few people are interested in buying.
So it is critical that you choose the right niche. If you choose the wrong niche, everything else you do in the steps below will not matter.
Some will argue that you should choose a niche that you are passionate about. That certainly helps to keep you motivated while you create content, especially in the early days when there is no affiliate income coming in.
Just to give you examples, you could choose any of the following as your niche:
Travel,
Software,
Gardening tools and supplies,
Quilting.
Quilting is a good example of a niche. It's quite narrow, which means your content will be highly specialized and targeted at specific interest groups.
Not a lot of people are into quilting but those that are really are into it. You will be surprised by how much people are willing to spend on their hobbies. Things you could promote as an affiliate in the quilting niche are sewing machines, quilting courses, patterns and templates, and fabric.
Keeping with our example of wildlife tourism blogger, as well as safari packages, you could also promote outdoor travel gear, camera equipment, air tickets, and car rentals. Anything else a person going on a safari holiday would need.
3. Decide on a content platform
As an affiliate, your real product is the content you will be creating. It's what will attract the leads to whom you will promote products. So you have a big decision to make on what type of content you are going to create.
The content you create determines the content platform you will choose. For example:
Blog posts - website,
Videos - YouTube channel,
A mix of punchy copy, short videos, and photos - social media.
You are going to be spending a lot of time creating content, so it's important that you choose a content type that you are comfortable with:
Are you comfortable in front of the camera? YouTube is your home.
Do you enjoy writing? Start a blog,
Do you enjoy social networking - Build an audience on Facebook.
Do you already have a blog that's getting traffic? Build an email list and start a newsletter.
With that done:
4. Choose an affiliate program
These days there are affiliate programs in almost any niche you can think of. Once you decide on a niche, it's not that hard to find an affiliate program to join.
Here's what I found with a quick Google search:
Look at the one right at the bottom. Our friends, Gofan Safaris & Travel.
That said, you may want to know if there is an affiliate program you can join before you choose a niche. Or even use that as your criteria for choosing a niche.
Here are some of the most popular affiliate programs open to Kenyans:

In truth, there are countless affiliate programs a publisher or social media influencer could join. Many aren't restricted to geographical regions. Anyone, anywhere can join as long as they can bring sales.
But even if there aren't already established affiliate programs in the niche, you can still approach businesses directly and offer to promote their products or services for a commission or a fee.
For people getting into affiliate marketing in Kenya for the first time, I would advise choosing a niche where there is a high volume of sales, even if the commissions may be low.
There are affiliate programs where all you need are a few sales and you will be sorted for the month. Those have high commissions but usually have low sales potential.
Naturally, it is harder to make sales in these programs, which can be discouraging if you go for a while without a sale. You should try these once you have built a sizable content library and have built solid expertise in your niche.
4. Create great content
It's stating the obvious that your content needs to be of the highest quality to convince people to take your product recommendations.
People can spot salesy content from a mile away and will not touch it even with a long pole. So this is where you are going to be tested as an affiliate marketer.
If your content platform and source of leads is a blog, you have to know what type of content resonates with readers. Usually, that is the type of content that Google loves to show to its users, too.
Most of the people who will land on your blog will come from Google. Some will come from social media or your email list if you have one, but Google is by far the most reliable traffic source.
But Google will not just send you traffic. Your content needs to be helpful to readers. It has to be truly the best for the searches you are targeting.
Of late Google has made it even harder to rank pages for product review content, for long the best-converting traffic source for affiliate website owners.
Now Google wants product reviewers to show proof they have actually used the product or service they are recommending. That means you have to buy and test the product or convince the seller to let you try it for free.
The Wirecutter, now owned by The New York Times, is a great example of an affiliate website doing it the right way. They personally test the hundreds of products they review, which shows in the site's success.
5. Drive traffic to your content
Your success as an affiliate marketer is going to be determined by how much traffic you drive to your content. That depends mostly on what topics you tackle and how well you optimize that content for your chosen platform's algorithm.
In simple terms, there has to be people interested in the topics you are covering in your content, whether you are publishing it on your blog, YouTube channel, or Facebook page.
So, it is essential that you research your audience to find out what topics they are actively searching for information on. For bloggers, this is known as topic research or, more technically, keyword research.
Keywords or search queries, in this case, are simply the words people type into Google when researching something.
If there are enough people searching for information on a particular topic, you have hope that you can drive traffic to your blog if Google decides your page is the most informative. As shown above, there certainly seem to be enough people interested in coming to Kenya for birding.
As well as SEO, which is writing your content in a way that makes search engines want to show it to searchers, you can also use paid ads to drive traffic to your website. Ads can however get expensive quickly, especially for beginners who have yet to make any money.
You can also use social media to drive traffic to your blog. Pinterest has been known to be a reliable traffic source for bloggers in some niches.
Building an email list through your blog is another way of generating traffic without spending a lot of money. Once you have the list, you can push your content to it knowing there's a good chance of making a sale or two.
6. Convert traffic to clicks
Once people are consuming your content, either watching your videos or reading your articles, how well you present your information determines if they will trust you enough to click on your links.
If they do click, you can hope to make a sale. However, what they do once they are on the merchant's website is totally out of your control. That largely depends on the buyer's level of interest in the item and the ease with which the merchant makes it for the person to complete the purchase.
There are a couple of ways you can maximize the clicks you get from your content:
where you place your links. Spread them across the page so that those who don't read the whole page can find them. Placing all your links at the bottom decreases your chances of getting clicks if most of your readers don't scroll that deep into the page.
how many links you add to an article. Too many links will make the content look spammy. People will click back to Google before they click on any of the links,
the context in which you are recommending the product. It has to make sense. Readers are not stupid; you don't want to add links where there's no logical reason to.
How to Make Money in Affiliate Marketing [5 of Our Top Tips]
Affiliate marketing is a great source of recurring income. But like most online businesses, you have to be patient. While you do that, you have to work hard to produce content that people will enjoy consuming.
For the above reasons, not all people who start will make enough money to live on from affiliate marketing. The impatient ones and those who think all you need is a few articles, social media posts, or YouTube videos will quit before they make any money.
Here are my top tips for anyone genuinely interested in making money with affiliate marketing in Kenya:
Choose the right niche and products to promote, ideally a niche with many potential sales and in which you have an interest in or expertise to share,
Invest in great content, whether it is buying a good camera and professional video editing software or hiring a video professional editor,
Know the product you are promoting. Take time to study both the product and the market so your readers can see you as an expert that brings value. Buy and test the products you promote.
Don't sell; help solve problems. People are looking to be educated, not to be sold to. They will take your recommendations if you do a good job educating them.
Stick with your niche. Don't try to be everything to everyone.
How to Become an Affiliate Marketer in Kenya - FAQs
What qualifications do you need to be an affiliate marketer?
You don't need any qualifications to become an affiliate marketer. All that merchants and affiliate program managers care about is the traffic you can bring to their product pages. For that reason, some may ask that affiliates show that they are already attracting traffic to their blogs, YouTube channels, or social media pages.
How much does it cost to become an affiliate marketer?
It does not cost anything to become an affiliate marketer. Most affiliate marketing programs have no joining fee. In terms of start-up costs, the barrier to entry is also low. All you may need to do is set up a social media profile, which costs nothing.
How do I start working as an affiliate marketer?
To start as an affiliate marketer you need to pick a niche, decide on what products you will promote, create content, and join an affiliate program. You can pace yourself or go hard at it, which will determine how fast you can start making an income from your efforts.
Is affiliate marketing easy for beginners?
Affiliate marketing itself is not that hard. It can be easily learned and most affiliate programs have training programs and content that give you all the tools you need to succeed.
What may be hard depending on your experience is creating content. If you have not written or published a blog before, it may be a while before you start seeing any traffic to your pages.
Can you make $10,000 a month with affiliate marketing?
Yes, you can make $10,000 a month with affiliate marketing. There are people making multiples of that a month. But you are not going to be making that much money as a beginner. It may take years of hard work, testing, and consistently doing the right things.
Affiliate Marketing is Profitable. Follow the Right Process, Stick With It, and Cash Out
In this article, we have shared the process to follow for those interested in learning how to become an affiliate marketer in Kenya.
If you pick the right niche, create great content, and choose the right products to promote, you will be raking in the commissions and cashing out to your M-Pesa before you know it.
At IntaSend, it is that last part (cashing out) that we are most excited about and would like to smooth out for you. After working so hard to earn those commissions, we don't want you to struggle to receive them and cash them out through your preferred method.
Whether it is a local or international affiliate program, we make the process of receiving your payments easy. We support payments made through Visa, Mastercard, ACH, and even Bitcoin.
Once the payments hit your IntaSend account, you can withdraw them however way is most convenient to you, which could be through M-Pesa or into your bank account. Or you could keep those funds in your IntaSend e-wallet and manage them from there.
Sign up for an IntaSend account today and enjoy the convenience of fast, smooth, and secure payments, money transfers, and withdrawals.
Cover image: www.pexels.com