Not every product will sell well online, especially in a young e-commerce market like Kenya. Discover 10 fast-moving items to sell online in Kenya.
Every Kenyan with an entrepreneurial itch will, at some point, consider starting an online business. The decision many wannabe e-commerce entrepreneurs agonise over and on which others stall is what items to sell online.
You would think the abundance of products you can sell online makes choosing what to sell on your online store easier. But actually, the more choices you have, the harder it is to decide.
However, as you will find out reading this article, if your main qualification for what to sell online is how fast an item moves, the task is not that hard.
This article will teach you a formula for choosing fast-moving items to sell online in Kenya. Even better, we will reveal 7 product categories already selling well online.
Let's get started.
How to choose fast-moving items to sell online
Sugar was the fastest-selling item in Kenya on Jumia during the Covid pandemic. But that was when the world was on lockdown, and people stayed home. Though no evidence supports it, it was widely believed that hot drinks could protect you from the Covid-19 virus.
The anecdotal belief in hot drinks' potential for fighting Covid symptoms saw the demand for sugar peaking. And, of course, with lockdowns forcing people to buy online, sugar became one of the items people bought most online.
Now that the pandemic has passed, most people are back to getting their sugar at the supermarket or the tuckshop down the road. So even though sugar remains a fast-moving item, it does not sell as fast online.
The sugar example typifies the complexity of the task of choosing products to sell online. You will arrive at the wrong conclusions if you rely too much on recent statistics and ignore the surrounding events and trends.
Look at what's already selling well online.
Though the Kenyan e-commerce market is quite young, it is vibrant and growing fast, so there is likely already a merchant selling products you plan to sell online.
The great thing about not being the first to market is you can study existing merchants to learn which products sell fast, which are more profitable, and which are not a good fit for selling online.
In Kenya, we have the advantage that a marketplace is one of the bigger e-commerce players. Jumia sells thousands of product lines spread over almost every product category you can think of.
To determine which products are likely to sell well online, Jumia's bestsellers are a good place to start.
You can easily tell how popular the item is by its number of verified ratings. Verified ratings or reviews are those that Jumia certifies have been left by customers who have bought the product.
A good marker that a product will sell well is many reviews but with a lower average rating. This tells you that despite that particular product not being the best quality, the seller's customer support or shipping not being that good, or whatever the reason for the lower average rating, people still buy that item online. It tells you this is a product people find convenient to buy online.
The number of ratings does not tell you how many units the seller has sold. Many buyers will choose not to leave a review, while others may return later after using the product to write a more comprehensive review.
With that said, let's get into our list of 10 fast-moving items to sell online in Kenya:
10 fast-moving items to sell online in Kenya
We are writing this article assuming you will follow a reseller e-commerce model. This means you will source and resell products at a profit on your online store.
You may also have favourites that you gravitate towards, perhaps because you have experience selling that product or because you understand its market well.
Either way, the Jumia bestsellers method we will be using will work. It will also tell you whether the product you are manufacturing yourself will sell well online if you find others like it doing well.
We don't promise that the products we suggest below will be home runs. But we know they are among the least likely to fail. If others can sell them, why can't you?
1. Makeup products
Whatever the weather or state of the economy, women will always want to step out looking their very best. Whether you think it's because women are generally anxious about their looks and are prepared to spend money to enhance their looks and appear more attractive or feel sexy, women's makeup products are an evergreen retail category.
No surprise that the likes of Estee Lauder, L'Oreal, Maybelline NY, and Chanel are some of the world's valuable brands. Some of the fastest-selling makeup products you can sell online include:
skin foundation,
spot-masking gels and creams,
lash extensions, and
Eyeliners.
On Jumia, the Garnier Vitamin C Booster Serum, a concentrated brightening and spot reduction formula, is one of the best-selling items. With 2,350 verified ratings, it is fair to say skin-brightening and spot-covering serums are safe products to sell online in Kenya. Your homework is finding the right brand.
2. Makeup tools
A product category in its own right but one that will make a great addition to an online store for cosmetics products, makeup tools are selling well online in Kenya. Makeup brushes, eyeliner pens, mascara, lipstick pencils, and eyebrow shapers are product options under the makeup tools category.
3. Cellphone accessories
According to the Communications Authority of Kenya (CAK), there are 26 million users of smartphones in Kenya. While that points to a huge smartphone market, the real money for a savvy e-commerce entrepreneur is in cellphone accessories.
While many people are prepared to prioritise a new, giant smartphone over 'more important expenditures', the majority don't buy a new phone frequently enough to make them the main product in your online store.
Many telcos also sell handsets and mobile SIM subscriptions as packaged contract deals, which makes them hard to compete against. Accessories, on the other hand, are fair game. They don't require as much capital and are bought more frequently because they are low-priced.
Accessories also come in a wide variety, meaning you will have more items to sell and not bet your business on a few items. Evergreen cellphone accessories include:
Phone cases,
Screen protectors,
Power banks,
Wireless chargers,
Earbuds
One of the most popular smartphone accessories in Kenya right now is Bluetooth earphone power headsets. They are also selling very well on Jumia.
4. Flatscreen TV sets
TV sets are an evergreen retail product category. As well as a bed, stove, and fridge, a TV set is a priority purchase for every young person leaving the parents' nest. And, of course, the picture quality is best on a flatscreen TV.
Smart TVs are another growing category that is worth adding to your online store, as is this accessory that is commonly bought together with flatscreen TVs:
5. Flat TV wall panel holders
The portable nature of flatscreen TVs means you can place them on a traditional stand or hang them on the wall. And if you want to hang your TV on the wall, you will need a wall hanger or mount, which most flatscreen TVs don't come with.
Because hanging your flatscreen TV on the wall saves floor space and means you can avoid the expense of a TV stand, wall mounts are one of the fastest-moving items on the Jumia marketplace.
TV mounts income in different designs and functionalities, including wall bracket holders, tilt-moving wall mounts, and full-motion swivel brackets. So you will have a good variety of stock in your store.
6. Small kitchen appliances
Stoves, dishwashers, and fridges are all evergreen product categories that may sell well online, but they require significant investments, which means they may not sell at the rate a small online store may need to thrive.
Consumers also typically prefer to buy larger appliances from big-box brick 'n mortar stores. Smaller online stores will find smaller kitchen appliances to be a better fit. These don't cost as much money, so you will sell more of them.
Kenya also has a growing middle class, with young professionals that have a taste for the finer things. This group of consumers is savvy and short on time, so they are keen to kit their kitchens with the fanciest appliances that reduce meal preparation time.
Some small kitchen appliances to consider for your online store are:
Electric fruit mixers and blenders
Air fryers, which are very popular right now,
Slow cookers,
Coffee makers, and
Microwave ovens.
The growing popularity of air fryers has also seen a market emerging for air fryer paper, which you will have to stock as it is usually bought together with air fryers.
7. Alcoholic spirits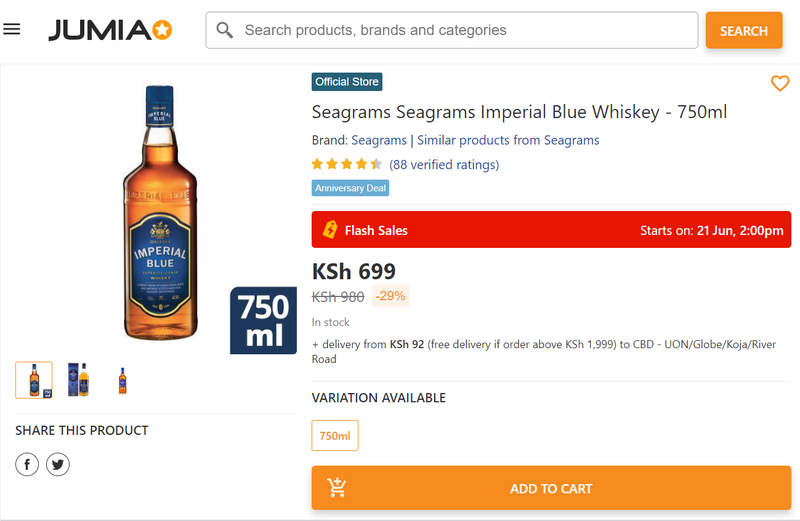 We are not quite a tipsy nation, but Kenyans love their alcohol. With the highest alcohol consumption statistics in East Africa, Kenya's alcoholic spirits sales are expected to tip the USD 980 million mark in 2023.
If the number of online stores that sell premium alcoholic spirits and beverages that all seem to be doing well, it appears that Kenya's emerging middle class has quite a discerning taste for alcohol. This marks premium alcoholic spirits such as Scotch whiskeys, gins, and cognacs as fast-moving items that sell well online in Kenya.
If you are too sober to consider running an online liquor store, this next product category may appeal to you:
8. Clothing
Clothing isn't one of those items you would expect to sell well online, as people generally want to try clothing items before buying. But clothes do sell well online in Kenya. A survey by Statistica revealed that clothing was the third most common online purchase in Kenya in 2022.
A broad product category that you may target as a whole or pick and focus on a specific sub-category like children's wear, women's wear, or men's wear, clothes will always have a market. What will change are tastes and styles, which is why this niche fits someone with some experience selling clothes.
9. Footwear
The Statistica survey we referenced above placed shoes as Kenya's fourth most common online purchase in 2022. Of course, just like clothes, there will always be a demand for shoes, whether dress shoes for work, athletic shoes for sports, or school shoes.
School shoes, in particular, sell well on Jumia. That's unsurprising as every parent will be glad to avoid the back-to-school season's retail chaos and traffic congestion. You have no such hassles when buying online.
10. Underwear
Underwear is one of those products some people wish they could shop anonymously, which makes it a great fit to sell online. No wonder it is one of the fastest-selling items on Jumia.
Men's boxers are a fast seller on Jumia. But, of course, ladies' underwear is a huge market offering options for a large catalogue. Even Carrefour is running out of stock: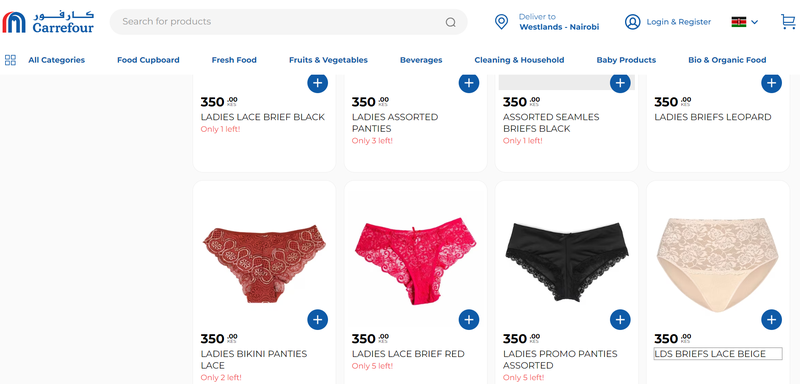 What I like most about underwear is that it is one of the few purchases people generally accept cannot be returned. Returns and refunds are an eternal challenge in e-commerce, so a product that can't be returned once bought is a dream.
Fast-moving items need a fast and efficient checkout process
If you choose the products for your online store well, the hope is that you will barely be able to maintain a backup stock. Items will be flying off the shelves, so to speak. That's provided customers can check out without issues.
With IntaSend as your payment gateway, checkout is smooth and painless, whether you are on the Shopify or WooCommerce platform. Your customers will have Visa, Mastercard, Bitcoin, and M-Pesa as payment methods. Multiple payment methods mean fewer abandoned carts and more sales for you.
Let IntaSend take care of checkout so you can concentrate on stocking up, shipping, and other areas of your e-commerce business. Sign up here to get started collecting customer payments on your e-commerce website.