Do you have an entrepreneurial itch but lack the capital to start a business? Discover 17 ideas for businesses you can start with Ksh 50k.
Contrary to popular perception, capital isn't the biggest barrier to starting a business in Kenya. The real barrier is an inability to brainstorm and validate profitable business ideas.
There are, in fact, a lot of small business ideas that a conscientious entrepreneur can launch a successful business on. We researched and found ideas for 17 businesses you can start with 50k in Kenya.
So what are these ideas for businesses that you can start with 50k?
We will get straight into them below.
17 businesses you can start with 50k in Kenya
1. Fumigation and pest control
Fumigation and pest control services go well together and are at the top of the list because they have proven to be popular small business ideas many people have invested in.
Fumigation and pest control is an evergreen industry because there will always be pests where people prepare or grow food. Demand for these services will always be there. You can also combine it with home cleaning and decluttering services.
What you need to start
Even though you will not need expensive equipment, this business is labour-intensive, so you must hire help. You will also have to invest in protective gear. Altogether, you will need a capital outlay of up to KES 30,000.
Your ideal customers will be homes, business offices, warehouses, and schools. Marketing can be done through social media and referrals. Still, as your business grows, you have to set up a website and a digital banking account to streamline your receipts and payments to suppliers and vendors.
2. Food truck/delivery
Food delivery is another evergreen small business idea that can be lucrative if you do it well. People will always eat, but the ideal places to target for this business are busy job sites, office districts, and large educational campuses.
However, you must know how to prepare good food and uphold food safety standards. The law requires you and those that help you prepare and serve the food to have health certificates.
What you need to start
For you to succeed with this business, you will need to be mobile. So will need a van with enough space to prepare and serve food. If you own a truck, you can convert its bed and serve your food from there or have a trailer specially built. But you can also operate from a rented space but must choose your location well.
You can also work from home and organise delivery on demand. But however you will serve of deliver your food to customers, you will need equipment to prepare the food. That includes a large stove, chip slicers and fryers, a rotisserie, large pots, plates, and utensils. Of course, you will have a budget for the food ingredients.
Focus on producing high-quality food and timely delivery to build loyalty. Try to build a subscription model around the business to ensure constant supply throughout the month. IntaSend offers ways you can collect payment instantly before deliveries.
3. Baking cakes for birthdays and graduations
Do you love baking? If so, you may already have tried baking cakes and other types of confectionery before. If not, it is easy to learn how to make cakes. You can watch YouTube videos or take a short course.
For customers, you can target people celebrating birthdays, weddings, baby showers, and graduations. These are the most profitable niches. Leverage social media to create a community around your brand and products.
Create a Facebook page, Twitter account, and Instagram account where you post pictures of your cakes and the recent functions you supplied cakes. That content does very well on social media.
Easily accept payment with IntaSend by sending no-code payment links that let customers pay online and using their payment methods of choice. Also, consider taking a small deposit as a commitment when accepting customer orders.
What you need to start
You don't need much capital to start this business. You can also operate from home, only venturing out when making deliveries.
You will need a large oven for baking your sponges, but you may already own that. Besides that, you will need baking trays, a few baking utensils, packaging, and a budget for the baking ingredients.
4. Personal Assistance
If you have a lot of time, you can offer to complete any tasks people need help with. These can be simple errands like picking kids up from school, delivering goods, or shopping.
To succeed, you must be professional, well dressed, and - because you will be getting into people's homes and handling their money and property - trustworthy.
You can easily start by requesting people around you to assign specific tasks for a small fee. Execute these tasks well, and you will soon get referrals from past clients. Consider signing up on websites like Kuhustle for more tasks and a chance to work with businesses.
What you need to start.
While you will get a better variety and more lucrative jobs if you own a means of transport like a motorbike or small car, what you need most for this business is a self-starter attitude, a likeable character, and excellent communication skills.
5. Hairstyling
This is a business idea that never goes out of fashion. The only downside to it is that it is crowded. To set yourself apart, you can choose to specialise, for example, on dreadlocks. People who grow dreadlocks are passionate about caring for their hair, which means there's scope to get a few loyal clients you can rely on.
To diversify your income, you can add hair-cutting services and sell hair care oils and extensions. Start small and learn from those who are already in the market. YouTube and other online courses are also good places to learn new styles from other countries that you can be the first to introduce to the local market.
You can leverage social media and WhatsApp to market and communicate with your customers. Like any other business idea, being professional and properly handling your clients is crucial. Your skills and reputation will greatly influence how you grow.
What you need to start.
Even though there are people born with a natural skill for it, hair styling can easily be learned. Equipment you will need to start includes hair dryers, hair clippers, and other small equipment.
You will also need a place to work from, ideally one with electrical outlets to plug your equipment. You can also work from your home veranda or build a shack in your garden, but you will need to have high visibility on social media and work on improving loyalty to ensure repeat business.
6. Dance teaching and personal training
It's cool to be a great dancer and look healthy. If you are a trained dancer, this is a great opportunity to monetise your knowledge and skill by coaching both young and old. Pick a niche that you feel can work well for you, e.g. Salsa, hip-hop dance, etc.
Personal training is an alternative small business idea that has potential. Target young professionals who desire to maintain healthy bodies and have the budget to invest in fitness training. You can train them in their home gyms, at a commercial gym or one you rent or operate.
Start an online training club and share videos and tips on social media to attract clients. It is also a good idea to start a YouTube channel where you share training videos. That type of content performs well on YouTube. If you post good content consistently and grow a large following there, YouTube can become a secondary income source for you.
What you need to start.
With this business, you only need a good phone and internet to record your videos and post content. You will also need a good camera, photo and video editing software, and training equipment.
Build a community around your product and charge a small monthly fee for membership. You will also need to invest in equipment for private training and coaching sessions with clients that require them.
Post some of your best videos on Youtube. The site share adverts revenue with the content creators. That is an extra income for you. Consider creating a meet-and-greet event at least once a month. You can mobilise your fans through social media and have fun together.
Consider managing your schedule and payments with IntaSend payment links, where customers can book and pay for a session before attending the classes. It is a good way to manage your payments and bookings.
7. Fresh fruits and vegetables sales
Everyone wants their family to eat well and maintain healthy bodies. Fresh fruits and vegetables, however, can be hard to source unless one has time to go to the fresh market every few days.
Consider running an on-demand service where clients receive a box of different fruits and vegetables at a specified frequency. You can run the business through WhatsApp or Facebook Messenger.
What you need to start.
Besides the capital and a list of suppliers, you will need a cart, scooter, or small truck to make deliveries with. You may also need a cold room or large freezer to store excess produce so it does not waste or spoil.
8. Fresh Juice and smoothies
Fresh juice and smoothies have become popular among both the young and the old. You can bundle it with your vegetables and fruit supply business or run it independently. Be careful to exercise food safety precautions, as any food poisoning event can land you in serious trouble.
What you need to start.
You need a juice blender and some other equipment to get started. You can learn from Youtube and practice on how to make the best fresh juice and smoothies.
9. Evening coffee (Kahawa tungu and snacks)
Evening coffee is popular among business people, especially during the cold season. This makes it a potentially lucrative small business idea.
Make sure your drinks are tasty, hot as desired, and affordable. Practice good hygiene to ensure your coffees are safe. It is easy to acquire repeat customers since the idea is to bring the product to them. You should find a quite busy area to focus on and be consistent with your delivery times.
What you need to start.
You can prepare the coffee drinks the old school, artisanal way with a large boiler, but a coffee-making machine will ensure you can prepare a lot more coffee simultaneously. You will also need packaging and a few people to make the hand deliveries.
10. Stock photography
The proliferation of online publishing platforms, including social media and blogging websites, creates a corresponding demand for visual content. Text content needs visuals to break it up and make it more interesting to read.
You can create a great collection of photos for sale using your phone camera. Sites like African Stock Photo provide a great platform where you can sell your high-resolution photos to graphic designers, web designers, product designers, and other users of visual content.
Good-quality African photos are in constant demand, and the supply is still low. So there is some money to be made with this small business idea.
What you need to start.
You will need a high-resolution camera to take good-quality pictures that you can sell. You can also invest in a photography course to ensure your photos are professional and good enough to sell. Besides that, you will need small capital to buy photography supplies and editing software.
11. Plumbing
Photo by Wesley Caribe on Unsplash
Plumbing isn't the most glamorous job, which makes it one of the most lucrative. And the demand will be there too. There will always be blocked sewers, sink drains, and toilets to unclog.
What you will need to start.
Plumbing is a technical job that requires having the right certification. You could cause serious problems with people's sewer and waste disposal systems if you don't know what you are doing. Besides the requisite training, you
12. Men's funky socks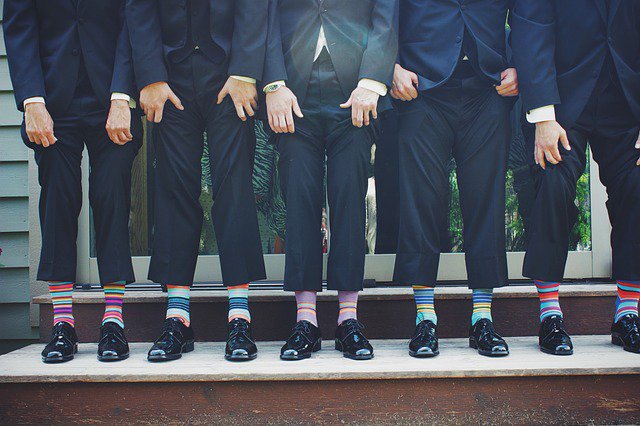 The clothing niche is competitive, but with some research, you can find your own least-served corner of the market that you can target. One such is men's socks. It is a good idea for a small business that you can start with little capital.
Men Funky Socks is a new trend that is growing fast. As with most, it will soon be crowded, so it's worth getting in early. However, do some market research to establish if there's enough demand where you are.
Be creative and consider following a subscription model. Or you could bundle your offering as a gift package for different occasions and outfits, like weddings, parties, or work. Social media can be a good space to promote your business and find customers.
What you need to start.
This business does not require much capital, although you will make more if you source your socks in bulk. What you will require a lot of is selling skills. You must be an outgoing person and a persuasive seller. Again social media is an effective promotion channel that you should put to maximum use.
12. Eggs supply
Eggs are an abundant protein source that is in great demand. A breakfast staple and an ingredient in many baked treats, eggs have a huge market. You will struggle to find a market; your task will mainly be to find cheaper suppliers. Instead of having customers come to you, deliver to their homes, offices, bakeries, and shops.
What you need to start.
You don't any equipment to start this business. All you need is capital and a can-do, self-starter attitude. This is a cash-rich business, meaning that as long as you are disciplined, you can quickly grow your capital.
13. General-purpose liquid soaps
This cleaning sub-niche has a lot of potential as a small business. The demand for cleaning chemicals is high, whether it is in hospitals, schools, fast food restaurants or neighbourhood shops.
You can learn how to make cleaning chemicals by watching YouTube videos and many other resources you can find online. It is a good idea to start with the wholesale market by selling in 5l and 20l containers and only venture into the competitive retail market once you have achieved scale and built enough capital.
What you need to start.
You need raw materials to start, but that won't require a lot of money because you can start small. You will also need mixing bowls, containers, packaging materials, and basic mixing equipment. You can invest in more advanced production equipment once the business is making a profit.
14. Start a daycare service
Daycare is a huge challenge for working parents. Many will good money for a daycare centre that offers a safe environment for their child. If you have space at your home, this is a business you can easily start. At Ksh300 per day per child, you can earn a sustainable income running a daycare centre in your neighbourhood.
What you need to start.
Besides the space that you can rent if you don't have any that you can use, you will need children's furniture, sleeping mats, toys, and a food budget if you will be serving meals.
Safety is a big concern in this business, so the space must be securely fenced and have no hazards like open holes and broken furniture lying around. If a child in your care gets injured due to hazards you could have removed, you could end up with a lawsuit.
Second-hand clothes and shoes (Mitumba)
Buying and selling second-hand clothes and shoes is an old business. Consumers are always looking to save money, and cheap, good-quality clothing is hard to ignore, even if it is not new.
To succeed with Mitumba, you must be creative because it is such an easy business to start that it attracts many players. The following are second-hand items you can specialise in:
Kitchen cooking aprons
Women's shoes
Unisex rubber/sports shoes
School satchels
Men's shirts
Men's & women's khakis
What you need to start.
You will need capital to acquire stock and not much else.
Cereals (Rice from Mwea)
There is a big market for dried foods, especially locally grown cereals like rice from Mwea, beans, and peas. The idea is to source directly from farmers and cut out the middlemen to maximise your profits. That also allows you to charge more affordable prices.
Your biggest expense will be transport to ferry stock from farms. To minimise that cost, you can take advantage of vehicles delivering products to market and throw your stuff on there. It's cheaper than hiring a whole truck. Another good idea is to package your products in small packs to ensure you have affordable options.
What you need to start.
You will need capital, but not a lot of it to start. It is a good idea to order small quantities of several types of produce to get an idea of what sells. If you go ahead and order in bulk, you could end up with your capital tied up in slow-selling stock.
Trust IntaSend to help streamline your business payments
IntaSend offers tools that help businesses collect payments, send money, and manage their funds. Our digital wallet is ideal for small businesses seeking ways to receive and make payments from one central place. We support multiple payment and disbursement methods, including M-Pesa and ACH.
Sign up today to pay and get paid easily, send money anywhere securely, and access tools to streamline your business processes.