Are you considering starting a business dropshipping on Jumia Kenya but are not sure if it will be profitable? Learn how to dropship on Jumia and avoid sinking your hard-earned money.
With everyone looking for fast ways to make money online, it is not a surprise that many people in Kenya are looking into the dropshipping business model.
Dropshipping is a flexible business model that allows you to set up with a low capital outlay. Reducing the business owner to a mere middleman, this e-commerce model removes the cost and risk of carrying an inventory and shipping orders to customers.
The Jumia online marketplace is one of the few established e-commerce platforms in Kenya that offers a robust infrastructure and a ready market of online shoppers for entrepreneurs keen to get into the dropshipping business.
So the question you are asking is, how does dropshipping work on Jumia Kenya?
That's what today's post is about. You will also learn:
how profitable dropshipping on Jumia can be,
the step-by-step process of starting a dropshipping store in Kenya,
why people fail with dropshipping.
Let's dive in.
How Jumia Dropshipping Works in Kenya
Dropshipping on Jumia works slightly differently from the dropshipping model followed by marketplaces like Amazon and eBay. In a way you could say the Jumia model isn't actually dropshipping in its strictest sense because sellers often handle the stock.
What it means is you need considerable capital to start, unless you can strike arrangements with suppliers where you get products on credit.
There are two ways the Jumia dropshipping model works:
The primary model is where the seller keeps the product they sell at their warehouse. When a sale happens on their Jumia store, they send a 'ready to ship' prompt to the Jumia logistics system right there on the platform.
Jumia will then send a motorcycle rider to your warehouse to pick up the ordered item and deliver it to the buyer. There is a fee attached to this rider service. Once an order comes in your Jumia store, you have 48 hours to request a rider to come pick up and deliver the ordered item.
Jumia Express dropshipping model
Jumia Express is the premium fulfilment service that the platform offers to approved sellers of qualifying products. One of the requirements is that the products have to be fast-selling.
With Jumia Express, you have to source the products you sell on your Jumia dropship store. You then drop those products, presumably in bulk, at the nearest Jumia fulfilment centre where they will be stored. When you get a sale on your store, Jumia will then handle the shipping from their fulfilment centre.
The Jumia dropshipping model makes sense for two main reasons. The dropshipping industry in Kenya is young and it can be difficult to find local suppliers who can ship directly to your client.
Jumia also has its brand to protect as its image is the one that will be dented every time a customer has their purchase delayed in shipping, not you or your supplier. So it makes sense that the marketplace will want to be in charge of or have some oversight on the shipping process.
So how do you source products for your Jumia dropship store?
How to Source Products For Your Jumia Dropship Store
How you source the products you sell on your Jumia dropship store is entirely up to you. Jumia only requires that you don't list the usual dangerous and illegal substances. Your products must also be new.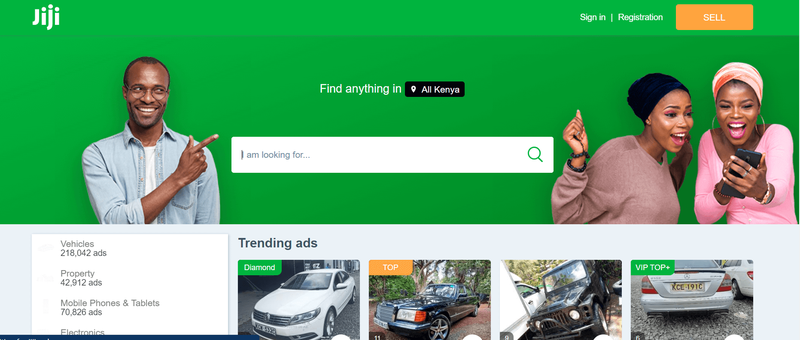 You could source your products locally. For example, you could search for wholesalers on the Jiji marketplace.
After vetting a wholesaler and getting satisfied that both the product quality and price are right, you can have an arrangement where they drop your order in your name at the nearest Jumia fulfilment centre.
If you do this you may not have to handle the product at all. But it's critical that you vet your supplier and be sure that they will deliver the product at the Jumia warehouse in time so you don't run out of stock before the wholesaler delivers. Presumably, you would have to be on a Jumia Express dropship account.
Sourcing from China
The local wholesale market is however limited, at least in terms of variety. You will struggle to source products that no other sellers are stocking. For this reason, many people choose to source their products in China, where you have access to millions of different products at cheap prices.
E-commerce platforms like Aliexpress and Alibaba are great options where you can source products without needing to actually go to China. But you need large capital to order in bulk so you will have enough stock on hand in case a product becomes a hit with buyers.
Shipping from China to Kenya can take up to 45 days, so there is that to factor in too. Not many customers will be willing to wait over a month after completing their purchase. And that's before we factor in the Jumia rule that all orders ship within 48 hours.
That is why the dropshipping arrangement where you use your Aliexpress account to fulfil an order on a Jumia account to avoid stocking products in bulk doesn't really work.
The reasoning is once a customer places an order on your Jumia store, you order the same item from your Aliexpress supplier and have them ship directly to your customer from Jumia. For one, it takes longer than 48 hours and is too costly to ship something from China.
So you may have to find sizable capital and import goods in bulk. To avoid sinking a large sum of money into stock that may fail to sell fast enough, you have to invest more time in studying your target market and researching products they need and that you can source cheaply in China.
How Profitable is Dropshipping With Jumia?
Besides the cost of acquiring the stock, two things are key to operating a profitable Jumia dropship store:
The value of the products you are selling,
The level of demand you can generate for your products.
Low-value vs high-value dropshipping
It's best to have a monthly sales target at which you can be sure you have earned enough in profit to make this a worthwhile business.
You will get to your target with fewer sales if you are selling high-ticket items. For example, flat-screen TVs, power tools, power generators, and computers are higher-value items to which you can add a good margin.
With those products, you will need fewer sales to meet your monthly sales target than if you were selling cell phone accessories.
By and large, sellers on Jumia Kenya do make good profits. From figures attributed to the online marketplace, 40% of sellers make at least Ksh 50,000 in profit per month. That is a tidy profit that could grow with the addition of a few more well-selected products.
How to Start Dropshipping On Jumia In Kenya
After formally registering your business and obtaining your KRA tax certificate, here are the steps to follow when starting a Jumia dropshipping business in Kenya.
1. Identify your target market
You should ideally choose a niche you know well. If you are unfamiliar with a niche, you won't know what will potentially sell well and to who, both of which are critical.
Your best bet is to choose a niche you love. If you love car detailing, you will do well to choose car accessories as your niche. You will know what products are trending in the niche and how people in that niche search for products. You likely know where those people hang out online, so your marketing will be easier.
If you are not sure, you can conduct research on Google search, check trending products on Google Trends, and use social listening tools like SproutSocial, Buzzsumo, and Exploding Topics to discover what consumer products are trending.
You can also study competitor storefronts and other marketplaces Jiji for pointers on what products are currently popular. You can use that information as a jumping-off point for your research.
2. Pick the right product
After identifying your niche, your next task is to pick the right product. Two things are key:
Presuming you have identified that there is considerable demand for a product, you will want to know if you can source it at a good price. While buyers may have a genuine interest in buying, there is a limit to what they will be willing to pay for it.
You should know what that limit is and decide if you can generate enough sales from the product after adding the marketplace's markup and fees. Ask yourself how many units you will have to sell to break even and start making a profit.
Also, ask yourself what scope there is to differentiate your store from competitors other than price. Will your product be of better quality and buyers can tell yours apart? If the answer is no, you better be able to price competitively.
3. Find reliable suppliers
If you can't find reliable suppliers you are going to struggle to fill orders and keep your customers satisfied. Your marketing efforts can go to waste as a result.
Know beforehand how long your supplier will take to ship your orders. It can take anywhere between a few days to 45 days to get a shipment from China. So if you are sourcing your stock from there, you ideally have to open your store with enough inventory to last you a while and then order replenishment stock ahead of time.
Some shipments will also never arrive. I have bought things on Aliexpress that I never received. I eventually stopped following up. So you want to vet the suppliers you choose to work with.
4. Register as a seller on Jumia
You don't want to register a store on Jumia until you have completed the above steps. It's like starting a company with no idea who your customer is going to be.
A marketing best practice is to find a market need that you can satisfy at a profit, raise capital, and then register your business. This applies to practically every type of business.
To register a seller account on Jumia, navigate to and follow the steps on this page. The registration process is straightforward, but you do need to have your business registration and bank account at the ready.
5. Optimize your product listings for traffic
If you are setting up a storefront on Jumia, you have the advantage of a large customer base of people who already trust the marketplace as a safe place to shop online. Still, you will have to market your store to stand out from the competition.
Successful dropshippers take SEO very seriously. They study how people search for products on the platform they maintain a storefront and craft their product titles and descriptions to reflect those search behaviours.
Your product content should be optimized around actual search queries buyers type into the Jumia search bar. Use the autocomplete feature to discover longtail variations of your products.
Jumia has a search engine like Google's, with an algorithm that determines which products to show for which searches. Your goal should be for your products to show for as many searches that people make in Jumia as possible.
Longtail search terms typically have the highest buying intent. So you should ideally target them with your product titles and descriptions.
Another sales promotion strategy you can employ on Jumia is to pay the platform to give your products more prominent displays on search results.
Similar to ads on Google's search results, your sponsored products will appear above organic search results, which boosts their visibility to shoppers.
6. Upsell
Once a buyer is on your storefront, you should try to squeeze as much juice out of them. You do this by upselling, which is only possible when you stock products that are typically bought together.
On self-hosted dropship stores, you can use apps and plugins that recommend complementary products with messages like. 'Customers who bought [the item bought] also bought [product typically bought together with the item].
As an example, if you sell smartphones, you should also stock accessories like phone cases and earphones. Phone cases protect your phone's screen when you accidentally drop it and will make good purchases for people looking to protect the considerable investment of a pricey smartphone.
Why People Fail With Dropshipping in Kenya
Many people plough headfirst into dropshipping without doing their research. They assume that it is an easy way of making money. This is a fatal mistake that has led to many failures.
Here are the other reasons why people fail with dropshipping on Jumia Kenya:
1. Not putting the customer first
This plays out in two ways:
Selling the wrong products
Selling too many products
In both instances, the seller puts themselves ahead of the customer's needs. They don't put enough effort into studying their target market to discover what products they need.
The seller either sells the cheapest product they can source so they can add a big markup. Or they simply pick products without any sensible criteria whatsoever.
When a seller stocks too many products their reasoning is that's how they will make more sales. This thinking is flawed if the seller isn't absolutely sure these are products their target market actually needs.
You will be surprised how many sellers start a dropshipping business without a target niche in mind.
2. Competing on price
You are going to find dropshipping hard if your only strategy for pushing sales is low prices. If your competitors respond with even lower prices, it becomes a race to the bottom.
Competing on price is unsustainable. Compete on a better customer experience as that is harder to replicate for competitors. Respond to customer inquiries - including negative reviews - promptly and with honesty.
Be transparent with returns and refunds. If you are, you can actually turn a negative customer experience into a positive review. Buyers like to deal with honest businesses that genuinely care and go the extra mile to please their customers.
3. Poor quality content on product listings
Many dropshippers are simply lazy. They use the same product descriptions from the product supplier's Alibaba or Aliexpress listing. Many of these are poorly written, oftentimes in broken English. It reflects badly on you if you reuse the same poorly-written product descriptions on your Jumia store.
Write your own product title and description copy using language local shoppers actually use when searching for the products you sell. Learn SEO and polish your copywriting skills. Use the product first and get a good feel of it before writing your product descriptions.
While you use the product, take some good quality photos to use when you list it on your store. Don't copy and paste the same photos from the Chinese wholesale site you sourced your products from. It's lazy and doesn't work very well.
4. Not accounting for long shipping times
If you are sourcing your products from China, know how long shipping takes typically so you don't constantly run out of stock.
That's one of the reasons customers request refunds. You also risk getting your account suspended if there are too many complaints about unfulfilled orders.
FAQs
Do Jumia sellers make money?
Yes, Jumia sellers do make money. But those that don't use common business sense, like selling products that their target customers need and at the right price, fail. Do your research and source the right products at prices that will guarantee you a profit.
How do I get more sales on Jumia?
To get more sales on Jumia, boost the visibility of your products with more targeted product titles and descriptions. Put some effort into your product content and write more persuasive descriptions. Of course, you want to make sure that your prices are competitive.
How often does Jumia pay sellers?
Jumia pays sellers either weekly or monthly. The platform only pays for orders that have been successfully delivered to customers.
Dropshipping On Jumia Kenya Can Be Profitable (For Those Who Do It right)
Dropshipping on Jumia has low capital requirements and fewer hassles with order fulfilment, but don't think that makes it a one-way ticket to riches. Many entrepreneurs who approach it with this mindset fail. You will avoid failure by doing your homework as we have outlined above.
You will nail dropshipping on Jumia Kenya if you pick the right niche and find products that your target customers actually need. You will need basic copywriting skills and some marketing smarts to drive enough traffic to your dropship store.
If you are sourcing your products from China, you will also need a partner experienced in international payments. That partner is IntaSend.
The IntaSend virtual card is a necessary tool for dropshippers on Jumia who source their products from China. You can fund your virtual card using M-Pesa, among other methods. This means you can easily top the card from your sales proceeds or simply from the balance in your IntaSend e-wallet.
Sign up for an IntaSend account today and establish your dropshipping business on a solid foundation, managing your business funds from one secure place.