Neteller is one of a few digital wallets that support the gambling and online forex and crypto trading niches. Learn if and how you can use Neteller in Kenya.
If you are an online gambler or forex trader, you know how hard it can be to fund your trading accounts, as not all payment methods are supported.
Neteller is one of the few trustable digital wallets widely accepted in the gambling, forex, and investing niches.
But before they get excited, online traders in Kenya would want to know if they can even use Neteller in Kenya. So that's where we will start this article.
Let's dive right in.
Is Neteller available in Kenya?
Neteller is an online payment processing company that you can use to send and receive money quickly and easily. It is available in many countries, including Kenya.
With over 20 million users worldwide, Neteller is a popular digital wallet for online gamblers, forex, and cryptocurrency traders, but it can be used for everyday transactions.
Neteller was started in Canada in 1999 but moved operations to the Isle of Man in 2004. It has since been acquired by British global payments company Paysafe Group.
The Paysafe Group also owns Skrill, a virtual wallet for money transfers and online payments.
Why do people use Neteller?
Some of the main features of Neteller that make it a popular option for online forex and crypto traders and gamblers include:
Fast and easy money transfers: Neteller allows users to send and receive money quickly and easily, with no fees for domestic transfers.
Neteller supports 22 currencies. Transfers from a Neteller account to an overseas bank account do not attract any transfer fees. Currency conversions are automatic.
Money transfers from one Neteller account to another are instant. If the recipient does not have a Neteller account, they will receive an email notification to alert them. Or you can ask them to open a free account before depositing the money.
Secure transactions: Neteller uses state-of-the-art security measures to protect your money and personal information.
Wide range of supported currencies: Neteller supports a wide range of currencies, making it easy to send and receive money anywhere in the world.
Convenient online account management: You can manage your Neteller account online, around the clock.
Customer support: Neteller offers 24/7 customer support, so you can always get help if you encounter any issues.
Neteller is a convenient and secure way to send and receive money. It is a popular choice for online gambling, forex trading, and everyday transactions.
How does Neteller work in Kenya?
Neteller allows users to pay or play online and to receive and send money. People in Kenya use the Neteller digital wallet as a bank account and payment method.
Neteller is useful for storing your savings and payment receipts. That same balance can also be used to pay for goods and services online, the same way you can use PayPal.
That said, there aren't as many merchants that accept the Neteller digital wallet as there are those that take PayPal.
Though Neteller isn't as widely accepted by general merchants, it is a leading payment method in online gambling and forex trading. Both industries are growing rapidly in Kenya.
What this means is when it comes time to cash out your earnings from the gambling or forex trading site you use, Neteller will be one of the withdrawal methods you can choose from. The funds will stay in your Neteller account until you can use them.
Neteller also has a prepaid Mastercard debit card that users can use to pay for goods and services online and in person. The MasterCard debit cards draw from the balance in a user's Neteller account when they use it to pay or withdraw money.
How to deposit money into a Neteller account in Kenya.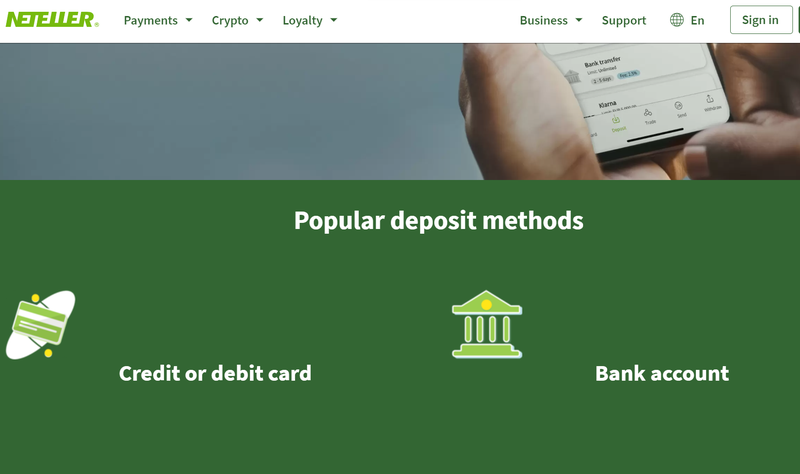 So, apart from the money you transfer into a Neteller account from your forex trading or online gambling website, how else can you fund your Neteller account? This will be so you can fund your forex trading or gambling account.
Neteller users in Kenya will want to be able to transfer money directly from their M-Pesa mobile money wallets. Can they, though?
Does NETELLER support M-Pesa?
Neteller does not support M-Pesa. You cannot directly transfer money from your M-Pesa mobile money wallet to your Neteller virtual wallet.
That said, you can use a third-party tool to move money from your M-Pesa mobile wallet to your Neteller digital wallet.
How to transfer money from M-Pesa to Neteller with EastPesa
EastPesa is a digital platform for transferring money and airtime that works in Kenya, Tanzania, and Uganda. Users can transfer money and buy airtime using VISA, MasterCard, Amex, PayPal, M-Pesa, Skrill, and directly from their bank accounts.
To complete an M-Pesa to Neteller deposit through EastPesa, users need to have a valid EastPesa account. You can create one here. Remember to use the same phone number your M-Pesa wallet is registered with.
Now, follow these steps to fund your Neteller account using your M-Pesa balance:
1. Find how much you will receive in your Neteller account
The good thing about EastPesa is it takes care of the Ksh to USD currency conversion for you. The money will leave your M-Pesa wallet in Ksh and hit your Neteller account in USD.
EastPesa has a handy rate calculator that lets you know how much USD you will get in your Neteller account from the Ksh amount you intend to transfer from your M-Pesa wallet. Select M-Pesa to Neteller service.
If the USD amount is insufficient to fund the transaction you want with your Neteller digital wallet or prepaid Mastercard, you will know how much Ksh you need to add to M-Pesa.
2. Open the M-Pesa menu on your phone and enter the EastPesa paybill number
After opening the M-Pesa menu on your mobile phone, choose the Select Paybill option and enter the EastPesa paybill number. The full paybill number is shown in your EastPesa account under the M-Pesa to Neteller service.
Remember that only the number you used to register your EastPesa account can make an automatic deposit.
3. Enter the amount you wish to transfer
The amount you enter must be in Ksh. This is the amount you fed into the rate calculator on the EastPesa website, which gave you the USD you will get in your Neteller account.
4. Enter your PIN
Entering your M-Pesa PIN completes the money transfer to your Neteller account, which will be loaded instantly.
What if you have money in your Skrill account that you want to move to your Neteller account?
How to fund your Neteller account using Skrill.
Neteller and Skrill are sister platforms. Both companies are owned by the Paysafe Group. Because of this, both platforms support money transfers between each other.
The Skrill to Neteller transfer is straightforward, but you must have both accounts. The transfer service, available on your Skrill account, is currently only accessible on the web platform. It's not available on the mobile app.
You can transfer money from your Skrill account to any Neteller account, not necessarily your own.
Follow these steps to deposit money in your Neteller virtual wallet from your Skrill digital wallet:
Log into your Skrill account,
Go to the Withdraw section of the account,
Click Withdraw Now under Neteller,
Select the balance you want to transfer from and enter the amount,
Enter the recipient's valid Neteller email address and click Next,
Review the transfer summary and click Confirm.
Skrill to Neteller money transfers are instant and irreversible. They also attract fees. Visit this page to review the fee structure.
How to deposit money into Neteller from a bank card.
Neteller also lets users deposit money into their accounts through their debit or credit cards. The deposits are instant but may take up to 20 minutes to reflect in your Neteller account.
Ensure you have a stable internet connection to complete the bank card to Neteller money transfer.
Follow these steps to complete the deposit:
Navigate to the Money section of your Neteller account and select Credit or Debit card,
If you hadn't added the card, you will be asked to enter your card details: the card number, expiry date, and CVV number. If you have cards already added, choose the one you want to deposit from the list,
Enter the amount you want to deposit and select the currency,
Click Yes if you intend to use the funds on gambling sites,
Review the deposit details and click Confirm.
Neteller in Kenya: FAQs
Which is better, Skrill or NETELLER?
Skrill and Neteller are quite similar in what they do and the technology they use. They are both secure and efficient platforms. What sets them apart and makes Skrill slightly better is the fees they charge both for deposits and withdrawals. Skrill generally charges lower fees.
Where can I pay with Neteller?
Multiple online merchants support the Neteller virtual wallet as a payment method, including sites where debit and credit cards may not work. Most of these are in the gaming, forex, investing, education, auctions, and marketing and advertising niches. Review the Neteller merchant directory here.
How long does it take to transfer money from NETELLER?
Most money transfers with Neteller are instant. These include transfers to another Neteller account, transfers to a bank account, and Neteller to Skrill transfers. Where these are delayed by network challenges or other factors, recipients usually get their money within 20 minutes.
Is Neteller safe?
Using Neteller to transfer money and as an online payment method is perfectly safe. Powered by parent company Paysafe, a global online payments provider, Neteller uses next-gen anti-fraud tools, including two-factor authentication to keep your account safe.
IntaSend is the best way to pay and get paid online in Kenya
While Neteller is available and works perfectly in Kenya, the best way to pay, get paid, and manage your money online in the country is through IntaSend.
IntaSend is the digital wallet of choice for freelancers and small to medium-sized businesses in Kenya. We have tools that help you request and receive payments from overseas clients, including an invoice generator and no-code payment links.
Our payment gateway helps Kenyan businesses accept customer payments on their websites. Payments from customers settle into their IntaSend digital wallets, from which they can make scheduled and bulk payments to vendors and suppliers.
IntaSend users can request virtual VISA and MasterCard debit cards from their digital wallets that they can use to pay for goods and services online. We support M-Pesa and ACH as withdrawal and funding methods.
Sign up for an IntaSend account today to get paid from anywhere and securely send money everywhere.